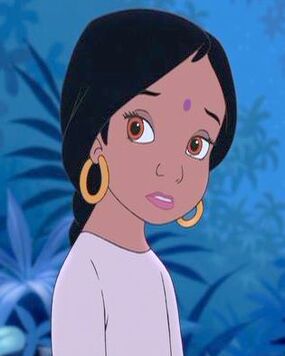 Shanti is a minor character who originally appears at the end of Disney's 1967 animated feature film, The Jungle Book. She later serves as the tritagonist of its 2003 theatrical sequel, The Jungle Book 2.
In the first film, she was voiced by American actress, Darleen Carr, while Mae Whitman provided her voice in the sequel.
Development
Edit
When Walt Disney and his creative crew couldn't advise a way to lure Mowgli into the Man Village, one member then suggested having a girl lure him into the village, and the idea stuck. Shanti was a polite, quiet, sweet, and beautiful young girl in the first film, and in the second film transformed into a careful, timid yet still sweet young girl and loves Mowgli like her boyfriend.
Appearance and Personality
Edit
Physical Appearance
Edit
Shanti is a small, slender girl, with black hair with pig-tails (a braided ponytai in the sequel). She has brown, sparkling eyes, with is her main quality that lures Mowgli into the village. She has fair skin, tiny red spot on her forehead, and wears a purple skirt, gold earrings, white belly T-shirt that shows only her midriff, and goes around barefoot.
Personality
Edit
Shanti is a beautiful young girl who has an obvious crush on Mowgli and has great fear of the jungle. She fears nearly every animal the jungle has to offer such as snakes, tigers, bears, and even bats. Shanti and Mowgli both have different opinions on the jungle usually leading to friendly or sometimes serious arguments.